Teddington edge out Fareham in a close contest in the England Hockey Cup
---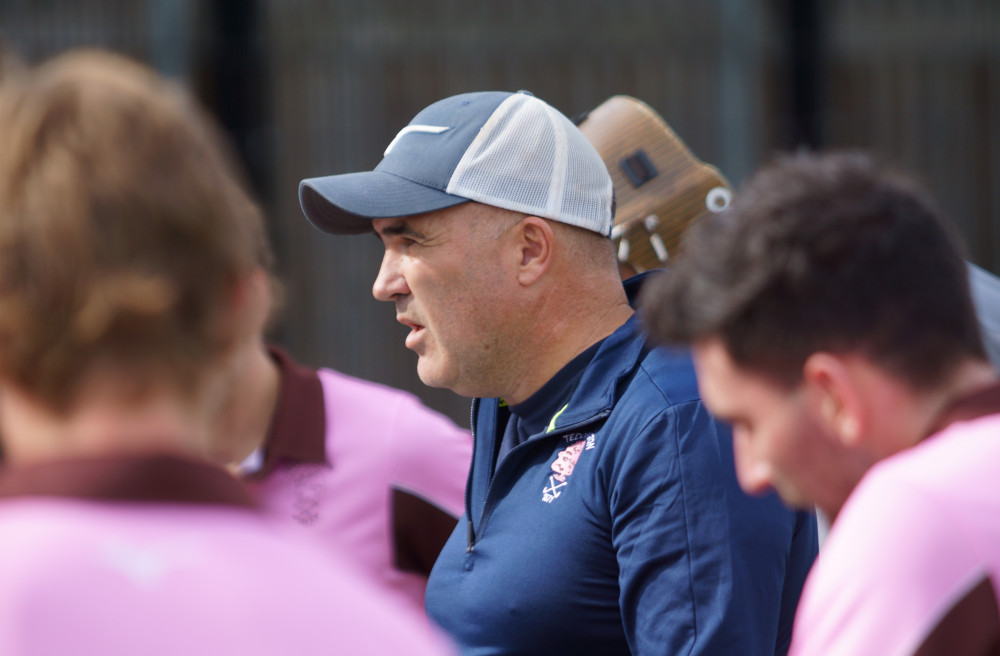 Ben Edwards gives a pivotal half-time team talk. Photo: Mark Shepherd.
Teddington travelled to Fareham with the hope of continuing their league form in the England Hockey Cup competition. Ciaran O'Connel reports on the Teddies' cup victory.
With the wind cutting through players it was clear from the outset that the festive break needed shaking off as as turnover after turnover made the first quarter a cagey affair.
But after 10 minutes Teddington's Smith, showed composure coming out of defence to the middle to pick out Steventon with a long range pass. Speedy Steventon opened up a gap between him and the defence, forcing the Fareham keeper to commit himself and he calmly swept the ball over the helpless slide into an empty net.
With confidence up, Teddington were then rewarded for their aggressive pressing in the second quarter when a steal from Moran on the Fareham centre half saw him power around the defence, slipping it to Swinnerton-Lons for an open goal.
Unfortunately for Swinnerton-Lons it didn't land on his favoured back hand so missed the ball with an attempted forehand swing; luckily O'Connell was ready behind to take the gift and score the second goal of the game.
The second quarter finished with Teddington sustaining their pressure and creating multiple chances to put the game to bed.but without success.
Fareham were never going to lie down and perhaps a sign of what was to come, the game was then played in driving hail and rain.
The game literally turned on its head with Fareham having the majority of possession and before long a short corner came and their persistence paid off with a well worked routine to make it 2-1. Game on, as they say.
The fourth and final quarter opened with more Fareham pressure and a quick second goal to tie the game. Led by their captain, Chains, they stormed Teddington's circle multiple times. Despite the valiant efforts of the defence, a baseline run by Fareham led to a simple tap-in for their forward.
The final 10 minutes were frantic and end to end. Teddington didn't help themselves going down to 10 men on two occasions. A Fareham player was rewarded for not wearing a gumshield by losing a tooth from a stick to the mouth.
And despite various attacks from both teams, it looked like it was going to be decided on shuffles.
However, with three minutes to go, an overhead pass by O'Connell landed neatly to prolific goal scorer Daly and instead of going for the win himself, he slipped a pass to Treece (yet to score this season) who stroked it past the oncoming keeper to land a place in the cup quarter finals.
Not a game for the hockey purists, but a well worked win for Teddington who are showing yet again they will fight hard for every win this season.
Fareham 2 - 3 Teddington