Teddington: Harlequins proud to join forces with charity Tickets For Troops
By Ellie Brown - Local Democracy Reporter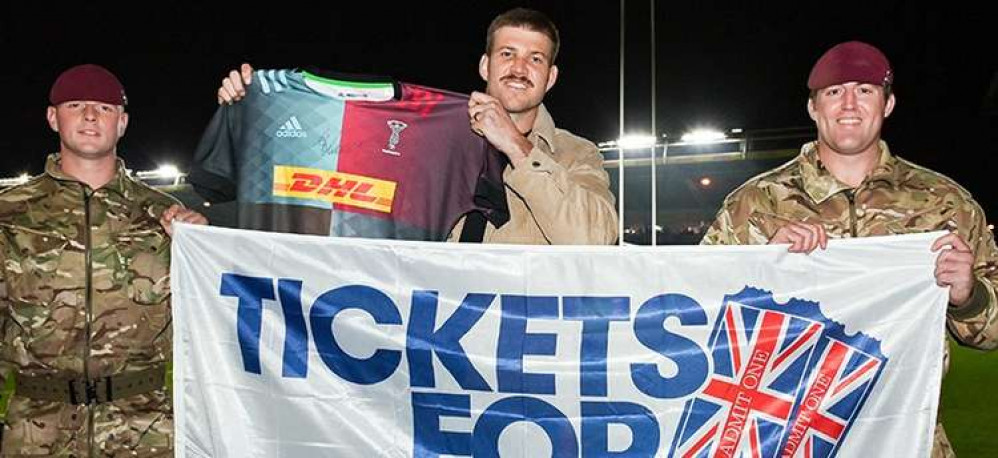 Teddington: Local team Harlequins has joined up with Tickets For Troops
LOCAL rugby team Harlequins is joining forces with the military charity Tickets For Troops to offer free tickets to members of the UK's Armed Forces in recognition of their efforts in keeping us safe and secure, the Club is proud to announce.
The Club will make tickets available free of charge for both Men's and Women's matches wherever possible as part of the partnership with the charity which was set up in 2009 and has given over 1.6million tickets away for sports, theatre and music events since launch.
The initiative has in the last week seen Armed Forces at The Stoop for the Red Roses match vs Canada, and Harlequins' Friday night Premiership Cup match against Northampton Saints. Further matches are being released shortly, including the biggest annual event in world club rugby, Big Game 13, taking place on December 27.
On Friday night, Harlequins' Club Captain Stephan Lewies posed with two serving soldiers, Bombardier Sam Harrison (2nd Row) and Gunner Rupert Eliis (Wing) who are both from the 7 Para Royal Horse Artillery based in Colchester and members of the Regiment's rugby team. Stephan presented a Harlequins signed shirt to symbolise the start of the partnership.
Harlequins CEO, Laurie Dalrymple said: "We are delighted to support Tickets for Troops – it is a small symbol of recognition for the role our troops play in keeping our families and our country safe in difficult times and the sacrifices they have made in serving our country."
Lord Marland, Chair of Tickets For Troops, said: "We are immensely grateful to Harlequins for their fantastic support. There has always been a very long-standing and strong link between the military and rugby and this just reinforces that relationship. This partnership also gives our members an opportunity to see first-class some outstanding rugby from the Double English Champions, which is a real privilege."
Warrant Officer Mark Frank took his son Oliver and said "We had a great time at the Harlequins vs Saints game, thank you so much, and we won just to top it off! Oli is now starting to understand the game a bit more so to have such a tense ending, he was bouncing off the seats!"
To learn more about Tickets For Troops go to www.ticketsfortroops.org.uk